CITI Program has compiled these resources to help the research community prepare for and manage the challenges presented by the outbreak of COVID-19. Visit this page often as we will update this list with new resources as they become available along with important news, including significant changes, regulatory updates, and guidance.
---
Complimentary COVID-19 Training
CITI Program's complimentary COVID-19 training includes COVID-19: Back to Campus, Remote Contact Tracing, COVID-19: Insights for Higher Ed Leaders, Participating in Vaccine Research, and What You Need to Know About COVID-19 Vaccine. These courses are intended to help organizations and individuals navigate safety and healthcare challenges presented by the outbreak of COVID-19.
Learn more about these courses
View additional social distancing training aid
---
Government Resources
Institutional Review Board (IRB) Review of Individual Patient Expanded Access Requests for Investigational Drugs and Biological Products During the COVID-19 Public Health Emergency Guidance for IRBs and Clinical Investigators
U.S. Food & Drug Administration
Coronavirus (COVID-19) Resources
National Institutes of Health
Control and Prevention
United States Department of Labor – Occupational Safety and Health Administration
Coronavirus Disease 2019 (COVID-19): Information for NIH Applicants and Recipients of NIH Funding
National Institutes of Health – Grants & Funding
FDA Guidance on Conduct of Clinical Trials of Medical Products during COVID-19 Pandemic
U.S. Food & Drug Administration
Notification of Enforcement Discretion for Telehealth Remote Communications During the COVID-19 Nationwide Public Health Emergency
U.S. Department of Health & Human Services
Interim Guidance for Patients on Clinical Trials Supported by the NCI Cancer Therapy Evaluation Program and the NCI Community Oncology Research Program (NCORP)
U.S. Department of Health & Human Services
COVID-19 Pandemic Response Resources and FAQs for Animal Care and Use Programs
National Institutes of Health – Office of Laboratory Animal Welfare
Contacts for Medical Devices During the COVID-19 Pandemic
U.S. Food & Drug Administration
Management of clinical trials during the COVID-19 pandemic: Notice to clinical trial sponsors
Government of Canada
---
CITI Program Articles
Time to revisit your disaster plan?
Preparing for COVID-19, Impacts on Research Organizations
U.S. Federal Regulatory Agencies Provide Guidance for Clinical Trials in Response to COVID-19
---
University Pages
Coronavirus Resource Center
Johns Hopkins University and Medicine
Human Subjects Protections Considerations
University of Kentucky – Office of Research Integrity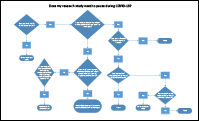 Decision Flow Chart for Pausing Studies (PDF)
University of Kentucky – Office of Research Integrity
COVID-19 and Urgent Research Tasks
Columbia University – Office of the Provost
---
Other Resources
COVID-19 Ethics Resource Center
AMA Journal of Ethics
Coronavirus disease (COVID-19) Pandemic
World Health Organization
COVID-19 Treatment and Vaccine Tracker
Milken Institute
Expanded Access to Convalescent Plasma for the Treatment of Patients With COVID-19
Mayo Clinic
The global impact of COVID-19 on clinical trials and countermeasure development
Hogan Lovell – Engage
Research in global health emergencies
Nuffield Council on Bioethics
---
Prospective Research Subjects
Please download our complimentary resource for those considering participation in research or clinical trials. This resource covers subject's rights, questions that should be asked about the study, informed consent, and definitions of commonly used terms.
Download Are You Thinking About Being in a Research Study?
---
Do you have an idea for a resource?
Resource suggestions will provide CITI Program with a way to stay atop of what is important to the research community during the COVID-19 outbreak. We value your opinions and invite you to submit a resource, resource ideas, or your organization's best practices for inclusion on our COVID-19 resources page.