Back To News
Add this webinar to your organization's subscription
---
Description
The Clinical Research Associate's (CRA) duties are to ensure that the clinical trial is conducted according to the protocol, good clinical practice, and other applicable guidelines. Interim monitoring visits are one of the essential tasks that CRAs carry out. This webinar details the functions of the CRA during an interim monitoring visit and highlights common findings. Special attention is given to the interactions between the CRA and study team members. Finally, the webinar explains some of the core traits of an effective CRA.
---
Audience
Clinical Research Associates (CRAs), Clinical Research Coordinators (CRCs), Contract Research Organizations (CROs), Faculty, Principal Investigators, Research Administrators, Sponsors, Students
---
Meet the Presenter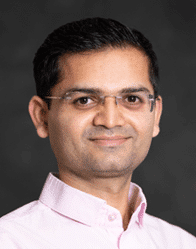 Divyesh Kukadiya, MS, CCRP – Children's National Hospital
Divyesh has a BS degree in Pharmacy and MS degree in Pharmacology & Toxicology. He worked as a Study Clinical Research Coordinator (CRC) at Georgetown University's Lombardi Cancer Center for four years. Since 2013, he has worked at Children's National Hospital, initially as a Senior Study CRC and now as a Senior Clinical Research QA Monitor.